Visa Information
This article explains and covers everything you need to know about Iran Visa. We explore every option individually and show you the pros and cons. Here is a complete guideline for getting an Iran visa and we update this article regularly.
Iran Visa Authorization Code
Iran Visa Authorization Code which is also called Iran Visa code or Iran Visa Tracking Code is a code that contains numbers and letters issued by the Iranian Ministry of Foreign Affairs for those intending to travel to Iran. Through this code, Iran visitors or travelers can have their Iran Visa stamped in their passport.
The authentic Iran Travel Agencies or Iran Tour Operators can apply for Iran visa authorization code.
Validity of the visa
Enter Iran within three months from the date of issue and stay up to the numbers of days granted. Generally, the maximum duration of a tourist visa is 30 days. However, this is at the discretion of the foreign ministry bureaus around the country to extend your visa up to 30, 60 or 90 days.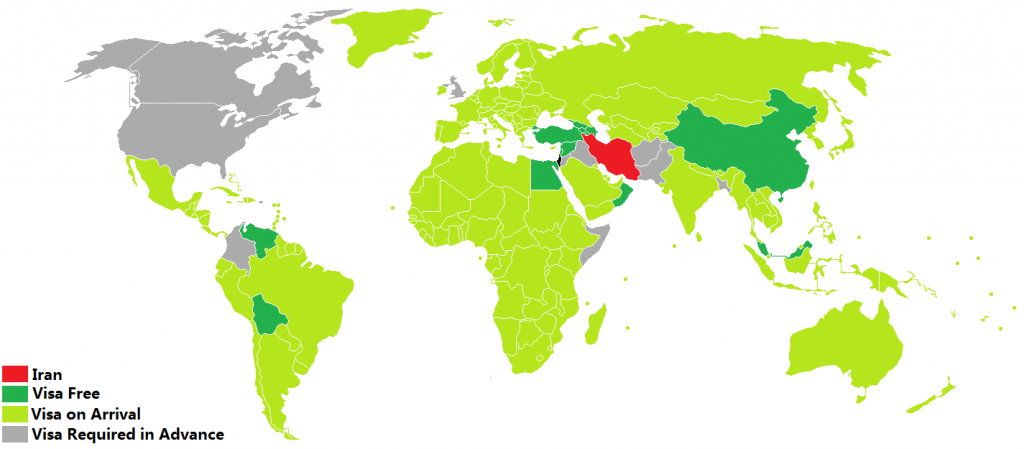 Iran Visa on Arrival (VOA)
The people who are going to have a leisure travel to Iran can also get their visas at the airport. However, validity period of this type of visa is only 30 days. This type of visa is extendable to 15 more days. You can obtain your visa from the airports of Shiraz, Isfahan, Mashhad, Tabriz, Imam Khomeini, and Ahvaz.
Note that we do not recommend you to attempt for getting airport visa, because it is possible that you may not be able to get your visa for different reasons. This type of visa is only issued for tourists and does not include journalists and military personnel (during their missions), those whose entry visas have already been denied, and the Iranians who have Iran passport besides the passports of other countries.
Note: the airport visa cannot be given to the nationals of United States of America, England, Canada, Pakistan, Afghanistan, Bangladesh, Somalia, Colombia, Jordan and Iraq.
Who Can Visit Iran?
"Which nationalities can visit Iran?" is a question most travelers may have. It should be noted that all nationalities except the owners of the Israeli passport can travel to Iran.
American, British and Canadian travelers can also travel to Iran and get the Iranian visa but they should provide all applications with a detailed resume. for more information Click Here.
Who can travel to Iran without a visa?
Based on mutual agreement, citizens of some countries are exempt from applying for an Iran visa. Countries which can visit Iran without visa include:
| | | | | | | |
| --- | --- | --- | --- | --- | --- | --- |
| Azerbaijan (15 days) | Bolivia (30 days) | Turkey (30 days) | Lebanon (30 days) | Syria (30 days) | Armenia (30 days) | Venezuela (15 days) |
| Oman (15 days) | Malaysia (15 days) | Georgia (45 days) | Hong-Kong (21 days) | China (21 days) | Taiwan (21 days) | Macau (21 days ) |
Visa Stamp Fee (Payable to the consulate on visa collection)
At the time of visa collection (In your nominated Iranian embassy OR Iran International Airports) applicants are required to consider making related consular visa collection and paperwork fee. These fees are separate of visa application fee to be paid to the Travel Agency. The visa fee depends on your nationality as follow:
| | |
| --- | --- |
| New Zealand: 150 Euro | Ukraine, South Africa, Brazil: 80Euro |
| Australia: 145 Euro | Tajikistan, Morocco, Saudi Arabia: 30 Euro |
| Chile: 120 Euro | Indonesia, Kirghizstan, Mexico, Valenzuela: 45 Euro |
| Serbia: 85 Euro | Emirates, Uganda, Vietnam: 100 Euro |
| Armenia, Bahrain: 10 Euro | Russia, Uzbekistan, Argentina, Mongolia: 70 Euro |
| Philippine, Nigerian, Panama: 55 Euro | Japan, Turkmenistan, Cameron, Kuwait: 60 Euro |
| Sri-Lanka, Nepal, Yemen: 40 Euro | South Korea, Kazakhstan, Croatia, Paraguay: 50 Euro |
Germany, Austria, Spain, Italy, Ireland, Island, Slovenia, Estonia, Belgium, Bulgaria, Portugal, Czech, Denmark, Romania, Swede, Swiss, France, Poland, Hungary, Norway, Netherland, Greece, Thailand, Singapore, Oman, Qatar, Cuba, Malt: 75 Euro
What are the different visa types?
There are 12 different visa types. You can see all of them below.
| | | | | | |
| --- | --- | --- | --- | --- | --- |
| Entry Visa (A) | Tourist Visa (B) | Pilgrimage Visa (C) | Diplomatic Visa (D) | Medical Visa (T) | Education Visa (E) |
| Temporary Work (F) | Transit Visa (G) | Media Visa (H) | Investment Visa (I) | Marital Visa (M) | Service Visa (S) |
Notes:
Iran visas can take from 1-8 weeks to be processed. It is different for different nationalities. Please allow sufficient time for this or let us know your nationality for more information.
You can apply for Iran e-visa on your own but if we do this for you, as a reliable governmental Iranian travel agency, it would be approved easier.
Your passport should at least be valid for 6 months so that the Iranian ministry of foreign affairs (MFA) grants you the visa.
Iranian visas are issued in a two-step process: 1. An authorization code for your visa must be issued by the Iranian Ministry of Foreign Affairs. 2. A visa for your passport must then be obtained at an Iranian Embassy once the authorization code has been issued. For your nearest Iranian Embassy, please check the Iranian Ministry of Foreign Affairs' website: www.mfa.gov.ir. Please note your nearest embassy might be outside your home country. Authorization code/Visa Approval number and Iran Invite Number all have the same meaning but can be displayed as different names on different forms. Please note the Iranian Embassy also now require a letter of authorization to be submitted with your visa application form. Please speak to your agent to arrange this.
Your Iranian visa could be extended while you're in Iran under certain circumstances. It depends on your port of entry, the required extra days, time of applications, etc. Your tour operator can handle this part accordingly once it's needed.