PERSIAN HANDICRAFTS, THE BEST SOUVENIRS FOR THE TOURS TO IRAN
Iran (Persia) has been a center of art and civilization since ancient times. This beautiful country is home to one of the richest art heritages and handicrafts in the world.
Iranian art and architecture reflect a 5,000-year-old cultural tradition with significant development over history.
Iranian arts have been passed on from generation to generation. Iranian handicrafts and artistic works can be found in different Iran major cities like Tehran, Isfahan, Shiraz, Tabriz and etc. each city of Iran is famous for some specific handicrafts.
The most famous of Iranian handicrafts includes:
Persian Handicraft
Persian Carpet
Minakari(Enameling)
Miniature
Khatamkari(Inlaid work)
Turquoise Fixing
Ghalamkari
(Calico work)
Ghalamzani
(Emboss working)
Termeh Weaving
Pateh
Moaragh Kari
(Wood inlaid working)
Monabat(Wook craving)
Gold Studding
Filigree Making
Moshabbak
(Lattice working)
Braid Making
Persian Souvenirs
| | | | | |
| --- | --- | --- | --- | --- |
| Caviar | Saffron | Rose water & oil | Pistachio | Sweets |
| Spices | Dried Fruit,Nuts & Vegetables | Silver Work | Gemstone(Turquoise) | Ceramics & Pottery |
Persian Carpet
Every country is famous for some items, and Iran is very popular for its carpet. If you ever travel to Iran, it would be a great idea to have a visit to Carpet National Museum of Iran in Tehran.
The visit will give you wide range of information about different types of carpet in every corner of Iran. You will also understand the pattern, color, and material which every district use.
Persian Carpet is an inseparable item from Iranian art and culture. It is undoubtedly one of the most distinguished manifestations of Persian dates back to Ancient Persia (c.500 BC). The "traditional skills of carpet weaving" in Fars Province and Kashan City were inscribed as Intangible Cultural Heritage Lists of UNESCO in 2010.
The pattern of carpets reminds you of the Persian garden which is full of florae, birds, and other animals. Wool, cotton, and silk are the most common materials in carpet weaving.
Traditional dyes used in Persian carpets are taken from plants and insects. As an example, red from "Madder", yellow from "onion", and black from "Oak apples".
Persian carpets and rugs of various types were woven in parallel by nomadic tribes, in village and town workshops, and by royal court manufactures alike. As such, they represent different, simultaneous lines of tradition, and reflect the history of Iran and its various peoples. Nomadic or tribal carpets are produced by different ethnic groups with distinct histories and traditions. As the nomadic tribes originally wove carpets mainly for their own use, their designs have maintained much of the tribal traditions. Nomadic tribal carpets of Iran can divide to different categories such as Senneh carpets, Bijar carpets, Kurdish village rugs, Qashqai, Khamseh federation, Lori, Afshari, Beluch and so on. And Tabriz in the West, Kerman, and Fars in the South, and Mashhad in the Northeast of Iran, together with the central Iranian towns of Kashan, Isfahan, Nain, and Qom are the main centers of Persian Town carpet. For more information, Click Here.
Minakari (Enameling)
The art of Minakari or Enameling is an art based on painting and decoration of the surface of metal bodies and sometimes ceramic objects covered by a coat called enamel. In fact, enamel is a clear glazing and glass obtained from merging glass glaze and metal oxides. Having baked in kiln, it becomes hard like glass. Enameling is done on the copper and brass bodies. Of course, in order to make jewelry and decorative objects in addition to copper, gold and silver are used too. As for the history of making enamel works no precise idea may be expressed, the first works of enameling which have been ever found so far are six golden rings which date back to 1300 B.C in Cyprus. They are the only genuine gemmed enameling works. In Iran, some of the researchers believe that it dates back to 1500 B.C. According to Pope, the famous historian, enameling gemmed objects are of the Iranian innovation and its wonderful sample is Khosro's Cup related to the Sassanid period. The climax of the enamel art has been in Seljuk period, then during the Safavid period in Esfahan, this art is mixed with paintings of the court feast and the hunting games displaying a new manifestation.
Enamel-workers present their works in two styles: painting and squaring, but whatever is done in Esfahan is in painting style. In order to prepare enamel works several stages should be done: First, the object which is to be enameled is made of copper in any desired shape and size by copper-worker; Second, its surface is coated by a kind of white glaze (Kaolin) after 3-4 times heating in a kiln with 700 degrees centigrade for a certain time. Now it is prepared for painting. After suitable coloration compatible with the used colors, the temperature of the kiln is adjusted so that while color stick to the body of the enamel it prevents burning. Enamel-workers use gold oxide, copper oxide and fine cohesive mud (gel mashi) to prepare red, green and blue and yellow colors respectively. One of the important factors determining the quality degree of a piece of enamel work is non-scratch ability of its body surface after finishing the baking stages in the kiln which must be carefully considered.
Miniature
The Persian miniature or Iranian traditional painting is a rich and detailed painting with religious or mythological patterns. According to the evidence the art of miniature painting in Persia started from early centuries in early post-Islam and after the collapse of Sassanians. However, the art has flourished in the Safavid dynasty.
Miniature is an artistic process during which a design is created on painting canvas by a paint brush smeared with color. In fact, miniature is a public concept and includes different methods and styles of Iranian painting whether painted in the books and manuscripts or on the wall and door of constructions and other painting canvases. To perform it, the artist after preparing the surface of work which is very important, paints on the canvas by paint brushes with different sizes then colors it with watercolor. The best paintbrushes are made of cat, squirrel and sable fur which is flexible while it does not curl. After being colored, the painting is polished and details are completed. In the best mode of his work, miniaturist depicts whatever he has imagined. He creates a scene while employing physical objects, expresses material relations in another way.
The world that miniaturist depicts, is the one philosopher called eight heaven or exemplified world. The goal of this art is to create a world which is different from ordinary and physical world. The presence of such realm in Iranian painting is possible by the language of code, allegory and imagination and through special methods. Miniature in Iran has not only a long history but also a deep influence on all Iranian arts. It is considered as a basic field. The first painting works were seen in Dosheh cave of Lorestan with antiquity of eight to ten thousand years. With the advent of Islam in Iran, miniature was manifested in illustration of books more than anything. For the first time in the history of Iran, illustration of books was done in the form of workshop and in Robe (four) Rashid Collection which indicated the improvement of miniature in Iran.
The earliest painted miniatures appeared in horizontal orientation without any frame. The vertical format first introduced in the 14th century.
In different periods, Iranian artists by the aid of their talent and artistic taste made various changes in miniature which resulted in creating many artistic schools in this field like Baghdad, Esfahan, Bokhara, Tabriz and Shiraz schools, each school with its own unique features but, on the whole, the most important Iranian feature is the manifestation of dominance of the imaginary world over the concrete objective world. Among the features of this kind of painting are: omitting perspective, expansion of space from bottom to top, placing the elements in the picture based on spiritual level and material aspects, lack of light source in the scene, usage of brilliant, flat and various colors, not having more than two dimensions, lack of contrast of light and the equal importance of human and nature. In continuation of this trend, new schools and different styles appeared in Iranian painting method but traditional painting with its rich background has still retained its position.
Khatamkari
Katam-Kari or Inlaid (Intarsia, Marquetry) is a cover obtained from getting a thin layer of tiny and equilateral pieces of colored wood with a thickness of 1.5 mm together with triangular pieces of brass and bone. Inlaid working is one of the top arts in Esfahan and there is no evidence who has first created this artifact but its principles are based on mosaic work which has a long history not only in Iran but also all over the world. According to Professor Pope this art is the art of mosaic work, but with colored wood and bone which is also called Khatamband, with the difference that in inlaid working tiny pieces of wood, bone and metal are prepared during a long process and are put side by side very regularly and delicately and in the form of geometrical shapes and after having been cut in layers are stuck on the wooden background by wood paste.
The ancient inlaid workings like Quran bookracks or works of arts remained in palaces indicate the antiquity of this art in the city of Esfahan and particularly in the reign of Safavid. In Esfahan inlaid maker (Khatamkar) first of all cuts the colored woods such as jujube, orange, betel nut, ebony, etc. in the form of a tape with a length of 60 cm and leaves them to get dried. For high quality works, the bones are also used in a way that first, tapes of camel bone are put in limewater for about 3 months so that their color becomes fully white. In the first stage of cutting, the wood and bone tapes are cut and filed in such a way that a clean and triangular cross section is obtained which is traditionally called hexagon star (Shesh). These tapes beside the brass tape which has become completely similar to wood and bone pieces through wiredrawing are put side by side in the form of a colorful and regular layout by a layer of glue. The prepared hexagon stars are fastened with a thread so that while drying, they may be stuck together very tightly.
This action continues until a complete flower with a height of 60 cm is obtained. Having prepared several flowers, they are put side by side between two boards and the spaces between them are filled with glue or wood paste, then they are made as a monolithic piece under a press. Now it is called rod of inlaid work (Qameh). Then, the craftsman cuts layers with a thickness of 1.5mm from the surface of Qameh by coping saw which is called plate (Lengeh). Having prepared the understructure via carpentry, the inlaid works are stuck on the background of the work through special glues and by heating based on their design, color, shape and dimensions. After priming, rubbing and restoring the surface of the work, the inlaid work is prepared and finally it is covered by a layer of lacquer.
The finer and stronger the prepared piece of inlaid working, the more its value, especially if it is made of the high quality material. In some cases, gold and silver are used instead of brass. The inlaid objects are sensitive to heat and humidity and in the case they are not of high quality, when adjacent to such elements they will be peeled off the surface of the object.
Turquoise Fixing
Turquoise fixing is an art which creates a layer of turquoise little-cut stones on the body of metal objects, making and preparing valuable decorative products. Turquoise fixing, as it is done today, is one of the contemporary arts of the recent century, but it has an old history just like the other available arts, because the technique of arraying small pebbles and colorful tiles has a long history not only in Iran but also all around the world, and it is the craftsman's artistic talent that creates a new design by substitution of applied elements. Turquoise fixing, generally speaking, is decorating the surface of metals such as gold and silver and manufacturing gold wares to the surface of copper, brass and etc. At the present time, it is done only in Isfahan. The underlying layer is made by the artist based on the design of the turquoise part, so that the surrounding of the part where turquoise is to be stuck is embossed for 2 or 3 mm.
The small pebbles of turquoise stone are first purchased from the mines which are situated in Mashhad, Damghan and Neishabour, then classified as per their size, and their wastage is separated. From this stage the uniform beads of turquoise are arranged and stuck next to each other on the body of the object so that the least distance remains among them. For this purpose, the metal surface is heated up to 30 degrees and a special powder (lacquer) is sprayed on it and is heated again so that the melted lacquer covers the entire surface of the object. Now the body of the object is heated again and the turquoise stones are placed on the melted lacquer, then again a layer of lacquer is melted on the surface to cover the remaining pores. Finally, the finishing operation is done twice during which the extra and unwanted tiny turquoise stones are removed. The turquoise studded part is polished by olive or sesame oil so that this part become as vivid and brilliant as the other parts. Technically, the uniformity of the turquoise stones is very important. The sky-blue color of the turquoise, and being pale with a lack of greenish hue makes the turquoise work of art more valuable.
Ghalamkari (Calico Work)
Calico work is an art which produces colored mould cloth used as table cloth, table covers, prayer rug, bags, etc. and which is formed by printing on a cotton cloth. Production of colorful designs and printing on the cloth by moulds has apparently been created in the 4th century A.D. in India and from there to Alexandria. Printing on the cloth was evolved in Iran during the Sassanid Dynasty and new techniques were initiated in decoration of woolen and cotton clothes. This art was extended generally in Isfahan during the Safavid period. Calico worker is also locally called "chitsaz", because in the Persian language the word "chit" means printed cloth.
Ghalamzani (Emboss Working)
Ghalamzani is categorized as metalworking; the art of decorating and craving various designs and patterns on different metals such as copper, silver, brass, and gold. The engraving is done by hammering on the surface of the metal after tar-layering and sketching the patterns on the surface. It is an amazingly delicate work and that is why the artisans spend so much time on making a piece of Ghalamzani.
Ghalamzani has a long history which is not actually so clear; however, the ancient samples which are being kept in museums such as Iran Bastan (National Museum of Iran) prove the claim that this art dates back to 3000 years ago. The samples also show that the Sassanid era (700 A.D.), the Seljuk era (1000 A.D.), and the Safavid era (1600 A.D.) were outstanding periods of metalworking.
Isfahan is considered as an artistic center in Iran. Although in Shiraz, Tabriz, Boroujerd, and some other cities you can find it, the best works of Ghalamzani can be found in Isfahan. Usually the delicacy and number of patterns determine the price; however, any artwork you buy from the skilled artisan of Isfahan would be valuable and beloved to you. So, do not forget to ask the shopkeepers how you should keep the Ghalamzani works; for example, you should not clean them with chemicals or steel wools to clean them. There are different objects decorated with this precious art such as plates, trays, vases, pitchers, dishes, etc. You can purchase them from stores selling traditional handicrafts and souvenirs of Isfahan. Probably, Naqsh-e Jahan Square is the best option since a large number of Ghalamzani workshops and stores are there. In addition, you can stay there for hours and joyfully watch the adept artisans working meticulously on pieces of metal to create such unbelievably marvelous artworks.
Termeh Weaving
Hand woven Termeh, production of which became trendy in Iran in the beginning of Safavid era, is a soft and elegant cloth which is made of different threads material such as silk wool and fluff. It is often decorated with original and traditional Iranian patterns especially the paisley pattern. They are hand weaved by the use of a 4-way foundation. The weft threads of Termeh cloth are very dense and they are left freely on the back of the Termeh cloth. Although some believe that Terhmeh originated from the central Asia and heights of Kashmir, others believe that Termeh weaving originates from Iran and then it found its way to Kashmir. One thing that can be said about this very elegant cloth is that the artistic taste, style and Iranian's innovation in the material and the visionary patterns used for weaving this soft cloth is rare and unique throughout the world.
This art reached its peak of development and evolution during the Safavid era and which became world famous and one of the exporting goods of Iran. Since old times, Termeh was used for many different purposes such as: sewing costly and royal clothing, curtains, robe, prayer rug. Nowadays, Termeh is used for table cloths, sofa fabric, pillow covers. In the past, the people who bought Termeh products were mostly riches, kings and royalty and in the present, mostly people of the upper class and middle class of the society buy Termeh products as gifts for weddings, Eids and formal or family ceremonies.
The first step in weaving Termeh is gathering the raw materials, which gathering the fabrics, wool, fluff or silk, Washing, dyeing spinning of them, is of great importance. After that, Chelle Keshi is done the same as other traditional hand-woven textiles and looming products and the weaving starts afterwards which is a precise, sensitive and time-consuming procedure. The weft string in Termeh clothes is very dense and is placed free behind the cloth. The Termeh looming machine is wooden and very much alike other looming machines. This type of machine has Chaharvardi and these Vardies move via the pedals that are placed under the weaver's feet. The color combinations in Termeh is quite eye catching. So much so that usually in the choosing process of the pattern and designs matching colors are chosen. The colors mostly used in Termeh are sangria red, light red, green, orange and black.
Termeh Industry was very prosperous because of its popularity and different usages by the upper class of society until factory made clothes and textiles were imported into the markets. Its prosperity in past was so that in cities like Yazd, Kerman and Isfahan, there were many Termeh Workshops and those cities were the most important centers for Termeh weaving production. But in present this industry is nearly abolished.
Pateh
Pateh Douzi, also known as "Selseleh Douzi" or "Fateh Douzi" is an important handicraft of Kerman province. Fortunately, this craft is still being practiced and making Patehs is one of the most flourishing trades of Iran. Due to vulnerability of textiles no Pateh product has survived from the ancient times, and very little is known about its history. However, according to travel documentaries and texts that belong to Safavid dynasty, we can be almost certain that Pateh was quite popular in Kerman during that time.
Pateh Douzi, or art of sewing Pateh, is a kind of embroidery in which all over of the textile is covered by colorful stitches. The makers of Pateh are most commonly young girls and women of Kerman who sew the patterns from their own imagination on wide and thick fabrics called "Ariz" or "Shawl". Ariz is a kind of handmade fabric that in the past was used to make skirts, coats and women overcoats. This fabric is made by textile machinery, both manual and automatic, in colors such as red, yellow, white, blue and green. "Ris" or the yarn that is used in Pateh is a wool yarn that was handspun in the past but today it is spun by machines. Traditionally the yarns are dyed with colors such as burgundy, black, light or dark green, yellow, orange, red, dark blue and etc., but new colors have been added to Pateh color palettes. In the past, Golabatoon and silk yarns were used, too.
One of the oldest surviving pieces of Pateh, which belongs to 1869, was used as the cover of Shah Nimatullah Wali's tombstone. This work is a great and elaborate sample of this craft. Sixteen skillful women of Kerman worked for two years and applied this Pateh by stitching colorful silk yarns on a cream wool fabric. One of the traits of Pateh which adds to its beauty and delicacy is the traditional motif of tree of life or "Boteh Jegheh", paisley. It is one of the most popular Iranian motif.
Today Pateh is most common in cities such as Kerman, Sirjan and Rafsanjan, and is used to make tablecloth, cover of holy Quran, curtains, cushions, bed covers, decorating parts of clothing and traditional dolls. Pateh has long been considered a part of dowry of young girls of Kerman and this is one of the reasons why it has kept thriving until today.
Moaragh Kari (Wood Inlaid Working)
Wood Inlaid (Moaragh) is the art of substitution of the different parts of a design by colored pieces of wood and integrating them with each other in order to decorate the surface of a tableau or other wooden understructures. Although the beginning of the emergence of this art is unknown, but it seems that India is the main birthplace of this art. The origin of wood inlaid working in Iran has stemmed from the art of inlaid working on tile which has emerged in the late Ilkhani Period and after Timurid Period. Lexically Inlaid (Moaragh) means a set comprised of tiny pieces joined together to form a mechanism. In wood inlaid working, according to the delicacy and complication of the design, different pieces of wood with a high variety of colors and also shell, bone and metal are used in order to improve the quality of the manifestation of the work.
In order to implement the job, the design is stuck to a three-ply piece of board and based on its lines all the pieces are numbered, then very carefully cut by means of a coping saw and every piece is used as a pattern for cutting desired wood. The three-ply board is connected to the main piece of wood by very tiny nails in such a way that after sawing round the wood, the pattern board and the wood may be easily separated. Having completed the design, the background can also be filled with wooden texture or colored polyester.
In Isfahan the background like the design is substituted with colored woods. Finally, the work is polished so that a smooth surface is obtained. In order to fill the spaces among the cracks, wood glue and filler with the same color as that of the work is used. The cleaner the cutting of the different parts of the design, the better the work-pieces are arranged next to each other with less crack space. Moreover, factors such as coloration, disappearance of the glue trace and nailed points and the strength of the understructure are very important in the valuation of the work. The object which has undergone inlaid working is covered by a coat of clear polyester in the final stage. Wood Inlaid working has different kinds such as wood inlaid-wood carving (Moaragh -Monabat) and wood inlaid working (Moaragh-khatam). These are two techniques in which the objects undergone wood inlaid working process are also decorated by combination of wood carving or inlaid (khatam) pieces.
Monabat (Wood Carving)
The art of creating embossed designs on the surface of wood via cutting and removing the design background by metal tools is called wood carving. Wood carving is one of the worthiest Iranian traditional arts particularly from the time of Arabs domination on Iran. Some wood carving designs are also observed in Persepolis works. There have been five to ten wood carving designs based on geometric designs, parallel grooves, arabesque, khtayy and tholth calligraphies in Iranian style in the Islamic middle period. In the Safavid Period, wood carving like other Iranian arts was accomplished leading to creation of lots of masterpieces. There are some mosques in Isfahan from the Safavid Dynasty the doors of which have remained safe and untouched.
In this artistic style the craftsman transfers the design in the form of real leather of charcoal powder to the surface of the wood then creates the peripheral lines around the design by means of tools like half round chisel and flat-head chisel … and then carves it by removing the background. The depth of the carving depends on the application of the object which is being made. For example, if the carving is meant to be a decorative object, the thickness will be a few millimeters but if it is a wooden mould for calico printing the depth can be up to five cm. Carving is usually done on kinds of wood which are strong and have no knots such as walnut, pear and ebony trees and some kinds of forest trees. Pear tree wood is used for fine works, but for larger works or wooden statues, walnut-tree wood is used which has been sunk in oil because the oil is absorbed by wood, making its surface softer for carving. The wood on which carving is done is firmly fixed by a clamp so that the chisel may move on it very easily. Different chisels are used for different parts of the work-piece, so that the wooden design might be as similar to the original as possible.
Having carved the background and having reached the desirable thickness, the tiny carving operations are done on the embossed parts by means of tip of a chisel or a sharp knife used for delicate works and then the work-piece is polished by sand stone. This action is traditionally called multilevel work. Finally, the entire work surface is glazed by oil or a coat of polyester so that the wood may not crack by the lapse of time and may resist against moisture.
Gold Studding
The art of making designs on steel bodies by means of very thin threads of gold is called gold studding. In the past gold studding was done on wood, also inlaying or undulating steel used to be done by gold but today the main purpose of gold studding is decoration of steel objects and particularly animal statues which have a religious significance and are carried in the mourning ceremonies. This method of gold studding has been known in Europe in the medieval centuries, because the details of gold studding on war wares, armors, etc. have been explained in the books which are related to that period. Preparation of the understructure which is in the form of statues like the shapes of lion, gazelle, peacock, etc. is one of the main stages. The metal which is usually used is steel and all the shaping process is done manually by hammering. At the end, all the pieces are attached together and the work-piece is polished.
Of the other important understructures on which the gold studding is done is the mourning flag carried in religious ceremonies. In addition to metal blades there are also the figures of some animals and birds which are attached on the flags after being made and gold studded. The main tool used in this art is a special knife by which the craftsman makes dentate the places in which gold is to be studded, then a golden string called tinsel (Naghdeh) with a thickness of 0.007 cm is put in the cleft places and hammered by a gold-studding hammer. Finally, the surface of the work-piece is glazed by a piece of agate or jade stone. In addition to making it bright, this action causes more attachment of the golden string to the steel body surface. Having finished the gold studding work, a special ink is rubbed on the steel and after being heated its entire surface is blackened. Then, it is polished with a polisher so that the work-piece is polished completely. The more the delicacy of the designs and paintings and at the same time, the more precise and cleaner the hammering process, the better the quality of the product.
Filigree Making
Filigree making is the art of making silverware and ornamental means which are obtained by arranging a large number of silver bars within the tiny frames such as tears, leaf, honeysuckle, silk and flower buds. Filigree is one of the most distinguished and yet finest Iranian metal industries which owe its reputation to the artists and craftsmen who have attempted to create valuable works by means of very simple tools but with a lot of patience. Filigree making has a long history. Professor Pope also mentioned some filigree works belonging to the 12th century. Before the Pahlavi Period this art was practiced in Zanjan as the native art of this city and during the reign of Reza Khan, when lots of the craftsmen emigrated from Zanjan to Esfahan and Tehran, it was spread to the other parts of the country.
In order to supply filigree bar, 100% Karat silver is transformed to the silver bar after being melted, then it is heated and passed through a die. Dying continues until the needed thinness is obtained, now it is called filigree tape. Having prepared a frame identical to the shape of the product in question, the filigree maker puts the mould on a copper plate and covers all over its surface with wax, then he puts a tape, with a width a little more than the filigree tape, round the mould so that it may obtain the same form as that of the frame and sink in the wax. Having passed this stage, he sets the filigree screws in proportion to the design in question next to each other by a little tong. Having set and arranged the filigrees all the surface of the frame is covered by "tonka" powder (which decreases the melting point of silver solder) and solder powder and melt the solder powder by heating which causes connection of the screws. The soldered parts ought to be polished in such a way that the connection points may not be visible. Fineness and at the same time cleanliness of the work in the art of filigree affect the quality and worth of the products.
Moshabak (Lattice Working)
Lattice working (Moshabbak) is a kind of decorative work which is performed on the surface of metals like gold, silver, copper and etc. Moshabbak means making holes. This word has been derived from Arabic infinitive of Shabaka and it means lattice work. Like other methods which are applied in metal industries, the antiquity of this artistic style goes back to the human's first experiences related to metals like iron and copper. Since primitive men found the formability of these metals, they could create lasting works by the aid of their talent and creativity.
Nowadays, lattice working or metal inlaid working is more prevalent in Esfahan and Tehran. It is done in the manner that after selecting metal plate proportional to the type of artistic work which he wants to make, the craftsman divides it into definite parts then he transfers the design on the metal surface by design copy maker. In order to prevent it from being wiped during the cutting, he embosses the main lines on the metal surface by semi-shape steel chisel. This action, in addition to keeping the design, causes that jigsaw moves easily on the designed lines. In the next step, based on the thickness of used sheet and delicacy of design, a jigsaw proportional to the cut point is used. Sheets which are used for lattice working can have different thicknesses such as 8mm sheet and thinner, 1mm sheet, 2mm sheet and etc. Those parts of the design which must be cut, first are drilled by a drill so that the jigsaw can pass through it. Having cut the pieces, prepared pieces are filled and washed and put beside each other based on the original design. Different products are made and decorated by this method, but since proper space ought to exist for sawing, lattice working is done more on flat surfaces and in the next steps these pieces are riveted together in order to make the desired object. Different kinds of metal boxes, boards, censers, and the pieces installed on entrance doors and metal blades on mourning flags are made by this method.
Braid Making
Braid making is the art of covering the surface of silk threads with precious metals like gold and silver through a series of particular stages. This art enjoys a long antiquity not only in Iran but also in other countries of the world. The discovery of golden threads and wires in the tombs of Egyptian kings in 3500 BC and the very fact that they had uniform surfaces create the idea that wire drawing metal wires had existed at that time. Braid making as a mother field for the other original arts like traditional embroidery, lace making, brocade weaving, filigree making, etc. has had a special and worthy position in Iran from past to the present time.
The preparation of gold for covering the silk thread is by itself a very delicate stage in this art-industry. Having categorized the karat of the gold, the craftsman sticks the gold on the silver through forging so that the produced rod is originally silver but the outward surface of which is coated by a very thin coat of gold. The prepared rod is stretched to such an extent that it may pass through the hole of a die. This action is continued till the rod reaches the required thickness. Up to this point, the stretched wire has a round cutting. This wire passes through a thread spinning wheel to reach a thickness of 0.01 cm and a width of 0.077 cm; that is called tinsel (Naghdeh). This thread together with braid thread is used for sewing all kinds of traditional embroidery The last and the most delicate stage of braid making is wrapping the flattened metal around the silk thread which is called braid wrapping. This action is performed on the thread spinning wheel in such a way that flattened tinsel (Naghdeh) may cover spirally and only the silk thread so it may not overlap at any place of it.
Caviar
The southern coast of the Caspian Sea, part of Iran, is a natural habitat for sturgeon species that has provided clean water, abundant nutrition, and an ideal environment for the growth of these species. About 90% of the natural caviar marketed in the world comes from the Caspian Sea. These fish, having a cartilaginous structure from prehistoric times, have remained the same, as many biologists call this fish a living fossil. There are 27 species of "sturgeon" in the world, 5 of them are found in the Caspian Sea:
The Beluga sturgeon
The Starry sturgeon
The Russian sturgeon
The Persian sturgeon
The golden sturgeon
As we all know the Sturgeons are endangered and rare and it takes that Sturgeons a long time to develop roe. That's why caviar has always been rare and expensive. Despite being expensive, the Caviar has always been demanded because of its numerous properties. This makes the fraudsters think of producing artificial caviar. Read the following tips and be precise while buying this luxury souvenir:
The fake caviar beads are black and exaggerated translucent, while the real caviar beads are somehow grayish and opaque.
The real caviar beads are not perfectly round and have no adhesion, actually, they are more oval-shaped. But the fake caviar has a smooth, round and sticky surface. The raw material of such a product is paraffin which is not nutritionally valuable and is even detrimental to health. The paraffin made beads melt and stick together in case of being kept in a warmer place.
Counterfeit black caviar is usually dyed artificially and repels if left for a while.
Lower prices and large volumes of packages and amateur colorful package designs are the most obvious signs of a fake product.
The color of caviar is mostly in black, gray, white and gold, in Iran.
Note that if you buy a product in Iran and the package has Russian or Turkish notes on it, it is likely to be fake.
Saffron
This red jewel of Iran used to be exported to Greece, the Roman empire, China, and Arab countries during ancient times. Iran is currently the biggest producer of this precious spice in the world and 94% of the world's saffron is cultivated in Iran, mainly in the eastern region of Khorasan. However, due to poor marketing and packaging, Iranian saffron is exported to other countries like Spain in bulk, where it is packaged and re-exported to other countries under those countries' own brands. It is not so easy to differentiate the real and fake saffron, but keeping the followings in mind can give you a clue:
Slide a small amount of the saffron, in a paper, if the oil is extracted from the saffron it's fake, but being powdered with no trace of oil indicates the pureness of saffron.
Original saffron has a lower coloring speed than counterfeit saffron. Put some saffron in boiling water, and wait for 5 minutes if the color of the silks didn't turn white, it's original. If the silks turn white within 5 minutes, it absolutely is fake.
The normal silk of saffron shouldn't be too glossy, being too glossy means it's not pure.
The taste and odor of saffron is a sort of constant indicator itself. The taste of the original saffron is a bit bitter but it has a pleasant aroma.
Saffron is a dominant food seasoning ingredient in Persian cuisine and it's a very famous Iranian souvenir among foreign tourists. Mashhad is the best place to buy saffron in Iran as a souvenir because, as said above, saffron is mainly cultivated in the Khorasan region, of which Mashhad is the largest city. For more information, Click Here.
Rose Water & Oil
A rose is a woody perennial flowering plant of the genus Rosa, in the family Rosaceae, or the flower it bears. There are over three hundred species and thousands of cultivars. They form a group of plants that can be erect shrubs, climbing, or trailing, with stems that are often armed with sharp prickles. Flowers vary in size and shape and are usually large and showy, in colors ranging from white through yellows and reds. Most species are native to Asia, with smaller numbers native to Europe, North America, and northwestern Africa.
Since ancient times, roses have been used medicinally, nutritionally, and as source of perfume. The ancient Greeks, Romans and Phoenicians considered large public rose gardens to be as important as croplands such as orchards & wheat field.
Rose oil (rose otto, attar of rose, attar of roses or rose essence) is the essential oil extracted from the petals of various types of rose. Rose ottos are extracted through steam distillation, while rose absolutes are obtained through solvent extraction, the absolute being used more commonly in perfumery. Even with their high price and the advent of organic synthesis, rose oils are still perhaps the most widely used essential oil in perfumery. Rose water is by-product of this process.
The cultivation of various fragrant flowers for obtaining perfumes, including rose water, may date back to Sassanid Persia, where it was known as golāb (Middle Persia گلاب), from gul (rose) and ab (water). The process of creating rose water through steam distillation was refined by Persian and Arab chemists in the medieval Islamic world which led to more efficient and economic uses for perfumery industries.
One of the most famous souvenirs of Iran and Kashan is Golab (The rose water) The wonderful odor of Golab and damask rose remind you the paradise. In Kashan, It is still made in traditional workshops in traditional way. If you went to Kashan in May and June you can enjoy the festival of Golab Giri and buy the natural Water rose. You can even participate in its process and have the water rose that you helped to be made.
Rose water is used in different food, dessert and cookies. It also has some health benefits. For the skin, heart, headache and digestive problem.
Pistachio
Great soil, suitable sunshine and unmatched atmosphere have joined together to create a unique situation in which the best pistachios in the world are produced in Iran. One of the advantages of Iranian pistachio is its high kernel ratio. it means you get more edible kernels for the same amount of Iranian pistachios than any other pistachios in the world. Another advantage of the Iranian pistachio is its high resistance to temperature fluctuations from sources such as cooking oil or extreme hot environment. therefore, preserves its taste and flavor under those unfavorable circumstances. Our pistachios taste great roasted or raw. They add extra taste and flavor to a variety of sweets and treats.
Pistachio is one of the most important agricultural export products in Iran, with more than 70% of it produced in Kerman province. Pistachio is grown in different parts of the province, but Rafsanjan, as the largest pistachio area in the world, is the main center of pistachio production in the province and has the highest volume of production. High quality and product variety are two of the main characteristics of Rafsanjan pistachio that have brought producers of this region to the world market.
Most Iran visitors consider buying pistachio for themselves or as souvenir for their friends. All days you can buy Pistachios in two shapes, shelled or unshelled (salted / unsalted) pistachios. If you like to buy shelled pistachio, you'd better buy "Akbari", "Kale Qoochi" or "Ahmad Aqai" pistachios which are the most famous with the best quality among all; therefore, they are a bit more expensive. For more information, Click Here.
Sweets
The cuisine of each country is an important factor for introducing its culture. Iranians are really friendly people who frequently get together and drinking tea plays an important role in their gatherings. Tea usually is served along with sweets. If you are going to travel to Iran, don't miss drinking a cup of tea next to traditional Iranian sweets. Iranians also tend to serve sweets on their celebrations and ceremonies. It's an important part of Iranian food culture. The most common ingredients and flavors in traditional Iranian sweets are rosewater, saffron, cinnamon and cardamom and they're typically filled with nuts. Iranian cuisine has great diversity and in every city, new tastes can be discovered and enjoyed.
Yazd
Any travelers to Yazd must try its sweets because this city is well-known for its delicious sweets including Baklava, Qottab, Louz (available in different flavors: pistachio, almond, coconut and…), cotton candy and Yazd-i cake. Best place where you can find the best ones is "Haj Khalifeh Ali Rahbar" that its main shop is located in Amir Chakhmaq square.
" Qottab " Deep-fried qottab pastries are traditional Iranian sweets consisting of soft wheat dough wrapped around almond or walnut fillings. They are usually generously spiced with cinnamon, rose water, cardamom, and orange blossom, then shaped into round or crescent forms.
Small in size and dusted with powdered sugar, they are a staple dessert served at numerous Iranian festivities and celebrations. Even though they originated in Yazd, nowadays these delectable sweets are prepared and enjoyed throughout the country.
Different types of baklava are made in different cities of Iran, in cities like Yazd, Tabriz, Ardabil and Qazvin, there are especial kinds of Baklava.
Isfahan
Visiting Isfahan isn't complete without trying "Gaz" which is the Persian version of Nougat, this white sweet is made with the sap of a plant called Angabin (native to Isfahan Province) combined with rosewater, egg whites and pistachios or almonds. Gaz can be packaged in individual wrappers or dredged in flour to create Gaz-e Ardi.
Shiraz
Famous Shiraz sweet including special cookies and jellies which are eaten together.
One of the most famous Iranian desserts is the soft and colorful Masghati. The base of this traditional confectionery is a mixture of liquids such as water or milk, combined with starch and sugar. When cooled, the starch solidifies the liquid and creates a delicate, firm, and almost jelly-like sweet treat.
The base is highly versatile and is usually incorporated with traditional Iranian spices and ingredients to provide different flavor combinations. Typical additions include rose water, cardamom, saffron, pomegranate juice, pomegranate seeds, and crushed or chopped nuts.
When cooled, they can be cut into different shapes such as diamonds or rectangles, and can even come served in individual bowls or molds. Iranians prefer to enjoy them during ceremonies and festivities when they are lavishly and intricately decorated.
Since Masghati treats are easy to make, they are also regarded as a simple everyday dessert, best served alongside a cup of tea. Masghati is a signature confectionery of the Shiraz, and one of the authentic souvenirs of the area.
Kerman
Kolompeh is an Iranian pastry baked in Kerman. Kolompeh looks like a pie with a mixture of minced dates with cardamom powder and other flavoring inside. Dates, wheat flour, walnuts and cooking oil are the main ingredients. Pistachios or sesame powder are often used for decorating kolompeh.
Qom
"Sohan" is Qom's most famous sweet which has a crunchy and buttery texture and is made with wheat sprout, sugar, butter, saffron, eggs, rosewater and cardamom. The top of this toffee-colored sweet is pistachios. Every time you have Sohan, you will need to brush your teeth!
Tabriz
In Tabriz, you could also try popular and super delicious different types of sweets, namely Tabriz Baklava, Qurabiya and Nogha.
"Nogha" is a variety of the widely popular Iranian nougat called gaz. Originally, Iranian nougat was made with an unusual exudate of an insect inhabiting wild tamarisk trees. The solid exudate was melted and sieved to create the rich and sweet base of the nougat.
Today, the original method is usually replaced with a more available mixture of sugar and beaten egg whites, which produces a product similar in texture and flavor to the original gaz. Nogha is one of the numerous varieties found in the country, typically eaten in the Azerbaijan-Iran region.
It is typically made with chopped walnuts, unlike other types which mainly use pistachios and almonds. Nogha gaz is usually spread between two thin wafers and is often cut into larger rectangular shapes. The sweet taste, sticky texture, and crunchy walnuts make nogha an immensely popular confectionery, eaten as a dessert or a sweet snack.
Because of its beautiful visual appearance, it is often given as a gift or a traditional and authentic Iranian souvenir.
Qazvin
In Qazvin, you could try and enjoy its delicious traditional sweets, one of its famous sweets is yummy Baklava. You can buy the best traditional sweets of Qazvin from Parastoo Confectionery or you can go to the Negarossaltaneh Café and try them.
Gilan
Koloocheh or Cookies from two cities of Fuman and Lahijan (in Gilan Province) are popular yummy cookies stuffed with different flavors such as crushed walnuts, cinnamon and sugar. Koloocheh can be served in the afternoon along with your tea, or during your breakfast.
Hamedan
In Hamedan Province, there are many tasty sweets, popular ones are "Komaj" and "Nan Shirmal" and also two semi-liquid sweets that are called "Angosht Pich" and "Halva Zarde".
Zulbiya and Bamiye (Ramadan Sweets)
Probably the most famous sweets of Ramadan, Zoolbia and Bamieh are basically like churro or doughnuts and are in fact fried pastry coated in saffron and rose water sweet syrup. They are an inseparable part of Iftar's meal which is like dinner after fasting.
Spices
Your food is your medicine!
The Ancient Iranian culinary culture finds food as medicine. Due to their nutritional characteristics, food can imbalance the international energy and temperature of body and mind. So, a balanced diet guarantees a healthy life.
According to the traditional medicine of Iran, foods are either hot or cold in nature. So, to correct imbalances and prevent troubles in body function, the cold items should go with hot ingredients. For instance, to balance the cold nature of chicken in Fesenjan, walnut and pomegranate molasses that have hot nature are added or cummin and dill being hot correct the very cold nature of rice in Shevid Baghali Polo.
Persian Spices
Spices come from different plant parts: seeds, fruits, roots, or barks, used for adding flavor and colour to foods.
Some spices are commonly used around the world, but others are specific to some regions. Actually, the diversity of the culinary cultures is the result of using different seasoning agents. What makes the Persian cuisine deliciously unique is the mixture of typical spices.
Sauteing spices increases their depth and pungency. Some spices like turmeric should be toasted to give their nobel flavour notes but some others like sumac are added just before serving.
Persian spices can be found in local bazaars of each city around Iran, in Attari (traditional herbal medicine and spice shops), or packaged in large grocery stores.
It is better to store spices in tightly sealed glass containers. Humidity and heat will strongly affect the quality of spices, so keep them in cool, dry and dark places.
Saffron (Zaaferan)
The red stigmas of this costly Persian spice have been used for seasoning and colouring foods for ages. This exotic spice gives a strong golden hue and appetizing aroma to so many dishes. Saffron is mainly the colouring agent used to garnish and give an élite look to the Persian rice, sweets, and drinks.
Angelica or Persian Hogweed ( Golpar)
This native Persian spice is widely used for its pleasant and unique smell. It is mostly used for flavouring pickles, stews and soups. This hot spice gives a charming taste to Adasi, Persian lentil soup. Golpar goes very well with pomegranate arils. This Iranian spice with vinegar makes a tasty mixture for dipping well-cooked fava beans – a typical healthy snack for winter nights in Iran.
Cumin (Zireh)
Cumin plant seeds are in whole or ground form. This spice comes in black, yellow-brown and green. This hot Persian spice has a slightly bitter taste and aroma. Cumin goes well with rice to balance its cold nature, or gives its unique flavour to various pastries.
Turmeric (Zardchoobeh)
A member of the ginger family, this originally Indian spice is the staple ingredient of the Iranian food.
This bitter spice is commonly used to add a yellow-orange colour to foods. Turmeric goes well with meat and its sharp smell covers any other scent. Be careful in using turmeric because the extra amount of it will give a noticeable bitter taste to your food.
Dried lime (Limoo Amani)
Persian sun-dried lime is the mild souring agent for so many delicious soups and stews like Ghormeh Sabzi or Gheymeh. It can be used ground, sliced or whole. To add them as whole to your food, you just need a fork to make few pricks on its hard shell. In this way, the stew will hydrate the lime and release its amazing sour flavour.
You can serve the cooked limes with your dish or just squeeze them to have the tart juice in the stew and remove the remaining.
Cinnamon(Darchin)
As the oldest spice of the world, cinnamon is widely used for its very sweet smell and appealing taste. The brown inner bark of cinnamon tree is the flavouring agent of various Persian dishes like Adas polo, Iranians pastries and drinks like cinnamon tea.
Cardamom (Hel)
Whether whole green pods, black seeds or grounded, cardamom is the staple spice in making savoury dishes, sweets and drinks. A pinch of this hot and pungent spice elevates every dish to a super mesmerizing level. For its appealing aroma, cardamom is usually the main flavouring ingredient. it also finely accompanies the rose-water and saffron to uplift the marvel of aromas. The combination of these three is necessary for Shole Zard, the Persian rice pudding, which is a special dish for special occasions like Ramadan.
Sumac (Somaq)
It is a special type of wild berry that grows in the Middle East and Mediterranean region. The dried coarse powder of this spice gives a pleasant lemony taste and vivid pop of red colour to meaty and poultry dishes, salads, or sauces. Sumac is commonly dusted over Lebanese salads like Fattoush but Iranians usually add a pinch of sumac on their kabab to give it a fascinating twist.
Advieh (Spice Mix)
The world adores the Persian cuisines as pleasantly but not inadequately spicy. The secret is that the Persian cooks usually do not use just one or two spices but blend different spices together which ends to the heavenly taste of foods.
Advieh is the mixture of several spices to strengthening the flavour and smell of foods. This special mixture usually includes black pepper, cloves, turmeric, cinnamon, cardamom, cumin, angelica, and rose petals.
The most popular Advieh in Persian kitchens are:
Advieh-e Polo for cooking rice with other ingredients like Baghali Polo
Advieh-e khoresh for flavouring meat and chicken in foods, like Abgoosht.
Dried Fruit, Nuts & Vegetables
Dried fruits retain most of the nutritional value of fresh fruits. The specific nutrient content of the different dried fruits reflect their fresh counterpart and the processing method. In general, Dried fruits are not only important sources of vitamins, minerals and fiber in the diet but also provide a wide array of bioactive components or phytochemicals. all dried fruits provide essential nutrients and an array of health protective bioactive ingredients, making them valuable tools to both increase diet quality and help reduce the risk of chronic disease.
DATE
Dates is a heavenly fruit and very nutritious that contains many different minerals including iron, potassium, zinc, manganese, and vitamins A, B, and E. Research has shown that this fruit can prevent cancers of colon, stomach, etc. One of the important traits of dates is that it is emollient.
In recent years Iran has been a leading producer of the dates fruit in the world with an annual production of 900000 metric tons from 218000 ha of cultivated Land. Date palms grown mainly in South, South East, and South West of the country, and with less important in central of Iran.
Commercially important Varieties in Iran: There are about 400 varieties known in Iran, but only few of them are commercially important.
5 kind of Dates:
Mazafati Fresh Dates
Kabkab Dates
Sayer Dates (Pitted & Un-pitted)
Piarom Dates
Zahedi Dates
Dried Apricots
One of the very popular fruits that enter the market in summer is apricots. This delicious and nutritious fruit can be consumed in dry form as well. About half a cup of apricots contains 153 calories energy, 40gms of carbohydrates, 6gms of fiber, 2gms of proteins, 13% of potassium, and 58% of vitamin A. The plum form of this delicious fruit is used as an ingredient of many Iranian foods and as a delicacy in the parties. 1/3rd cup of its dried form contains 101 calories of energy,27gms of carbohydrates, 3gms of fiber, 1gm of protein, 5% of vitamin A and 7% of potassium.
Iran is one of the largest producers of dried apricots.
Dried Fig
The figs tree the scientific name of which is FICUS is a genus Muracee family and comprises 600 sub-species most of which are decorative or wild. Fig is a plant indigenous to western Asia, having been under cultivation in Iran for millennia.
Fig has a tasty, nutritious and energy booster fruit consumed fresh or dry. Fig is high in iron, calcium, phosphorous, sodium, potassium, magnesium, manganese, chlorine, sulfurous, copper and vitamin A, B and C. Iranian dried fig is another kind of dried fruit which is very high in sugar (roughly 60%). It's worth mentioning that dried fig has 5 times as much sugar as the fresh one. The Iranian fig is left to be dried on the tree without using any additive.
Dried Mulberry
The berries, especially the dry one, are a good niche because of their high shelf life and also its high sugar content.
This product, although only a small amount is exported, however, more than half of the products exported are sold and sold abroad.
Mulberry is rich in minerals, tannins , fats and vitamins D and C is material. Mulberry is one of the products that grows in the summer in Iran. You can see mulberry trees anywhere in Iran.
Sugar Mulberries not of glucose and fructose and the like, but it is sweet berries of sorbitol.
Raisin (Keshmesh)
Consumption of dry grapes that it generally called raisins started centuries ago. In Iran and Egypt, it was first produced some 2000 years ago. In Rome, raisins were given as a gift to those who used to decorate the temples and as a prized to the athletes who won the games.
Iran is the third largest exporter of raisin in the world by exporting more than 150,000 MT (27% global Consumption) of raisins worth around 250 million dollars annually. There are different varieties of Iranian Raisins; Golden Raisins, Sultana Raisins (Superior Qualily-Dark color / Light color – Malayer) Black Raisins and Green Raisins. The advantage of Iranian Raisins is principally its price, minerals and different methods of price, minerals and processing, and that's the reason why Iranian Raisins minerals are amongst the finest raisins in the world.
6 kind of Raisins:
Golden Raisins (Angori)
Sultana Raisins (light / dark)
Malayer Raisins
Golden Kashmary Raisins
Green Raisins
Sun-Dried Raisins
Barberries ( Zereshk)
Zereshk is the Persian name for the dried Berberis, and today Iran is the largest producer of Zereshk in the world. Often cooked with chicken and rice in a dish called Zereshk Polo.
This small dried berry has a bit of sour tart taste and a flavor that lingers if you consume plain. Unlike some others though, our Iranian Zereshk berries are edible out of the hand and enjoyable. (this is subjective of course) Because of this palatable nature, you can think of our Barberries for any dish that call for raisins or currants.
In some parts of the world it is traditional to use Iranian Zereshk as an ingredient in the making of jams. Naturally high in pectin, these dried barberries will firm up a jam nicely while adding their own flavor.
Golden Plums (Aloo Bokhara)
Plums belong to the Prunus genus of plants and are relatives of the peach, nectarine and almond. They are all considered "drupes," fruits that have a hard stone pit surrounding their seeds. There are over 2,000 varieties of plums growing all over the world.
The Persian dried plum or Aloo bukhara has a chewy and wrinkly textured flesh and its taste range from sweet tart to sour. It is golden in color and becomes darker as it ages.
An excellent source of vitamin C and iron. Aloo bukhara helps regulate the digestive system and heals constipation. The vitamin C in the plum helps the body boost its resistance to infectious agents, soothe swelling, and eliminate free radicals. It contains potassium, which is an important component of the body's cells and body fluids, and controls Heart beats and blood pressure helps.
Aloo Esfenaj (Plum and Spinach Stew) is a yummy Persian stew with plum as a key culinary element. Gheymeh becomes more delicious by adding some of these golden plums.
Nuts
Walnuts
The plantation of walnut trees has been mentioned in the historical books since many years ago. It has been said that it is the most ancient edible seed consumed by human beings. Barks of walnut trees have been discovered in France and have been dated as old as 8000 years ago and also the Heneolithic period (Neolithic period of about 10'000 years ago). This theory does not necessarily contradict the idea that it has originated from Iran and introduced to the Romans by the Greek. The Romans regarded it as a suitable food for their gods. The leaves and barks of this tree are nutritious and blood purifier. Its leaves and specially its bark with its bitter content of tanen is used as a medicine in dermatology and for scrofula.
Iranian walnut kernel are divided into three grades according to the size, fat contain, color and halves. Walnuts may be consumed fresh, roasted, or salted. They are used in confectioneries, pastries, and for flavoring. The shells can be used for the preparation of activated carbon.
Almond
The Iranian commercial production varies around 6.000 tons of shelled product, obtained from both orchards and scattered trees. There are two main almond kinds, sweet and bitter. Almond trees with pink flower product sweet almond and almond trees with white flower product bitter almond. All natural, raw almonds, supreme size, high in protein, calcium and zinc.
Hazelnut
The hazelnut is the nut of the hazel and therefore includes any of the nuts deriving from species of the genus Corylus, especially the nuts of the species Corylus avellana. It also is known as cobnut or filbert nut according to species. A cob is roughly spherical to oval, about 15–25 mm (0.59–0.98 in) long and 10–15 mm (0.39–0.59 in) in diameter, with an outer fibrous husk surrounding a smooth shell. A filbert is more elongated, being about twice as long as its diameter. The nut falls out of the husk when ripe, about 7 to 8 months after pollination. The kernel of the seed is edible and used raw or roasted, or ground into a paste. The seed has a thin, dark brown skin, which sometimes is removed before cooking.
Hazelnuts are used in confectionery to make praline, and also used in combination with chocolate for chocolate truffles and products such as Nutella and Frangelico liqueur. Hazelnut oil, pressed from hazelnuts, is strongly flavoured and used as a cooking oil. Turkey is the world's largest producer of hazelnuts.
Hazelnuts are rich in protein, monounsaturated fat, vitamin E, manganese, and numerous other essential nutrients.
Pistachio
Pistachio is one of the most popular and popular agricultural products in Iran. Our Country Locating in the Best Climatically and Meteorologically Conditions and Profiting the Best Sun Affects. We are First Producer in the World .
This fruit, which is originally Iranian and has a very attractive appearance, has a lot of edible properties. The pistachio tree, also known as English Pistachio, originates from the center or east of Asia and has several species.
Types of pistachios under cultivation and cultivation in Iran are related to the domestic species Pistaciavera.
The Pistachio size unit is the number of Nuts in an Ounce. (28.35 Grams = 1 Ounce = Oz).
3 kind of Pistachios:
JUMBO : Kaleh Ghochi
ROUND : Fandoghi
LONG : Akbari , AhmadAghaie
Dried Vegetables
The leaves, flowers, or stems of plants are common in Persian cooking. Whether fresh or dried, different aromatic herbs are always present in every Persian kitchen for flavouring or garnishing dishes.
Sabzi khordan (fresh herbs) is a common side dish on the Iranian Sofreh (table-cloth) that has more aromatic, papery herbs such as basil, mint, parsley or tarragon.
Coriander (Geshniz)
Coriander has a soupy fragrance that pairs very well with a range of salads, soups and stews. For its tart taste and strong smell, it is the key element for cooking Ghormeh Sabzi or Ash Reshteh.
Dill (Shevid)
The wispy green leaves of dill are a popular culinary ingredient of various dishes throughout Europe and Asia. Fresh or dried leaves of dill give a mildly bitter flavour and exotic aroma to fish dishes or Persian rice. The iconic Sabzi Polo and Shevid Baghali Polo are two most favourite Iranian foods that are usually served for special occasions like Nowruz.
Parsley (Jafari)
A peppery herb used as a garnish for main dishes, soups, salad dressing. For its strong, pungent flavour, Parsley is the popular culinary ingredient in the Mediterranean and Middle Eastern cuisines. It goes well with meat, vegetables and legumes. Felafel or Salad Olivie will taste heavenly with a pinch of freshly chopped parsley.
Summer Savory (Marzeh)
This flavourful herb has a delicately fresh aroma and peppery taste. The thin small leaves of summer savoury used in a number of applications. It is commonly added in soups, sauces, chicken.
Tarragon ( Tarkhon)
Tarragon has a thyme-like taste and pinery smell. It is a characteristic seasoning ingredient for dressings, soups, chicken and seafood. Tarragon particularly added in Persian style pickles and khiar shoor (pickled cucumbers). It is a perfect substitution for salt, for its light salty taste.
Fenugreek (Shanbalileh)
Dried fenugreek's leaves are good aromatic aids in cooking. Fenugreek has a slightly bitter taste that reminds of curry. These light green leaves will give a heavenly taste and fragrance to Ghormeh Sabzi when sautéed along with garlic and coriander.
Persian Leek or Chives (Tareh)
The thin green leaves of the leek give a semi-onion flavour to a lot of Iranian cuisines. Leeks can be eaten raw or steamed and sautéed to be an omelette filling or in different Persian tasty Ashes or vegetarian dishes like Kuku Sabzi.
Persian Pantry is not restricted to herbs and spices. There are some other key elements distinguishing the Iranian culinary.
Silver work
The First Persian Empire was based in Western Asia, founded by Cyrus the Great, its duration lasted from 550-330 BC. This period was also known as the Achaemenid Empire and had one of the highest global populations of any empire, at its peak. The empire spanned from Indus Valley to Northern Greece and from Central Asia to Egypt. Ancient art in Persia has been a massive influence on the arts and culture of the region and it was during the Achaemenid Dynasty era that the first upsurge of Persian art occurred. Despite a lull in its popularity during the Parthian Era (c.250 BC), The Sassanaid Period saw an outstanding period of Persian Art. These artists crafted a range of gold and silver dishes stunningly decorated with animals and scenes of hunting. Sasanian luxury art were produced from precious and semi-precious stones, silks and glass vessels. In Iran and Mesopotamia finely crafted silver vessels were produced in large amounts. These were renowned Sasanian silverware. The silver would be hammered into shape and the decorative designs would be produced by using varying techniques. Due to the trading that took place via sea and land routes connections were made and production of these silver vessels took place in and became established in Central Asia. Many silver pieces were also decorated with the scenes of the ancient Persian state religion, Zoroastriansim. Many of these scenes detailed the Seasons, which appeared on many pouring vessels suggesting that they had a link to ceremonial meanings within the Zoroastriansim religion. In Iran and Mesopotamia finely crafted silver vessels were produced in large amounts. These were renowned Sasanian silverware. The silver would be hammered into shape and the decorative designs would be produced by using varying techniques. Moving onto more recent times, the crafts of Isfahan have ensured its maintained its position as the major centre for crafts in Persia. Isfahan has always held a major prominence in metal work, in particular decorative metal work. During the second half of the 20th century the market demands saw a major shift in interest towards silver work.
Today many objects are made of silver, such as trays, candle-holders, fruit dishes, cups and other decorative objects.
Previously, silver objects were considered manifestations of aristocracy due to their high prices. But this attitude has changed, as more people decorate their homes with silverworks, which can also be a valuable asset for the family.
"Silverwork is a combination of art, technique and industry. Today, even people who did not know much about silverworks until recently are buying silver objects to decorate their homes," 
Gemstone (Turquoise. etc.)
The semi-precious gemstone Turquoise has been highly sought after in the Middle East for thousands of years. Its elegant blue hue has served as a protector and bringer of strength and peace for many a king and dignitary for centuries, such is its transfixing appearance and transformative power. It was in the mines of Persia – what is now modern-day Iran – where the mineral was found in its purest and most desirable form.
For over 2,000 years, Turquoise gemstones have been cut from the grounds of Iranian mines to form some of the most instantly recognisable and sophisticated pieces of jewellery in the world – its popularity as the perfect addition to any outfit evidently continues into the world of 21st century fashion.The abundance of Turquoise in Iran means that it is still a core source for mining to this day, so the story behind what came to be known as Persian Turquoise is just about as rich as the beauty of the stone itself.
Persia's historical Khorasan region was the traditional source of Turquoise for many of the travelling salesmen in Central Asia and Europe at the time.It was from this trade, in fact, that the gemstone received its very name; the trade route into Europe passed through Turkey and the Old French name for anything Turkish was turqueise, which evolved to become the name we know it by today. Salesmen travelled across Central Asia as far wide as China to bring the stone to those who longed for its protective qualities. Central Asia, which was largely Iranian in pre-Islamic days, was heralded as the world's primary supply of beautiful Turquoise stones – luckily, the supply was plentiful enough to meet the demand!
Iran played a significant role in the trading that occurred along the famous Silk Road that connected the East with the West. The Turquoise mines there are known to have been heavily worked since at least the 10th century to meet the demands of the surrounding regions. Intriguingly, there is some evidence to suggest that Iran's supplies were discovered around 2100 BC, but this hasn't been proven. What was known as Persian Turquoise enjoyed a reputation the world over for the smoothness of its robin's egg blue veneer.
It often displayed colour variations from blue to green between mines in the Central Asian region, but one of the key differences between the Persian variety and the Turquoise found in the mines of the USA and Egypt, for instance, was that it lacked the intensity of the matrix of brown veins in its final cuts. The iron- and vanadium-rich environment in which the mineral can be found in Iran is what prevents the formation of these veins and this is noticeably lacking in other world regions.
How the Persians began to evaluate turquoise brought another unique aspect to the turquoise world. They prized turquoise with clarity, cutting their cabochon stones so that no host rock or impurities could be seen on the surface of each deep sky-blue-colored stone. This grade of turquoise was the most coveted but not the most common turquoise produced by Persia's many mines. Mining production also included large quantities of low-grade colors with matrix, as well as several shades of green turquoise. Persians used and sold all grades of turquoise, but during the generations of the shades, the best was given to the shah's treasuries. It is rare to get a stone with clarity that is bigger than the size of a small coin, so small cabochons of Persian Turquoise have been set in many wonderful and elaborate designs of art and ornamentation around the world. From the Middle east and throughout Europe and Asia, Persian turquoise is still recognized for its "Persian Blue" colors. Persian turquoise is still a standard for turquoise in the modern world, and this fact is a tribute to the Persian stonecutters and artists as well as to the gemstone itself.
Ceramics & pottery
Persian pottery as a craft has very long history, which goes back to the 7th millennium BC. Throughout the centuries, since the early Neolithic Age, functional pottery ware has been created in various forms all around the world, made and designed by many cultures. One of the oldest is Persian pottery, made by the artists of Persia (Iran). Persian potters developed their work to perfection, they responded to cultural changes and adopted many new designs as part of their own style.
Evidence of painted-pottery in Susa, which was a Sumerian cultural center during the Uruk period, has been dated to circa 5000 BC. Ceramic vessels that were probably placed as offerings to the dead have been found in over a thousand graves located near the temple. The vessels found hold clues about the organization of the society and the civilization that was settled in Susa 6000 years ago. Two thousand pots have been recovered from the cemetery, every single piece of them representing the technical achievements of their makers.
Pottery is the oldest handmade artwork. The earthenware is world famous for its designs, especially "fish", "the lady sun" and "the hen". Meybod is a prominent pottery-producing center in Yazd province.
"Lalejin" is one of the cities of Hamedan province, which is known as the capital of the Middle East pottery. Many ceramics found in this area, also most people have been pottery from ancient times and transmit this art to the next generations. It became eligible for the global registration in 2016, and this led it to economic growth. It can be said that it is the main center of production and export of pottery. The necessary soil for pottery has been provided from the land around the village of Dastjerdi in the form of clod. After these clods have been beating in large containers, they mix them with water and then smooth to remove impurities such as pebbles. It has been remained constant for a few days to it tighten. After this time, they create shallow lines on the surface of the clay by a long wood. Then the clay will be cracked through these lines in the form of a brick. Then bricks are sent to the workshops and stored in a room called Terpaghdan. The clay is kneaded by two people. Then the prepared clay be divided into smaller portions in form of a sugar loaf. Pottery furnaces are made of brick and they are divided into two parts. The lower part is stokehole with a large iron cresset and the upper part where dishes be located for baking.
At the moment, there are more than 1000 pottery workshops in Lalejin, some of them are famous just for the production of one kind of container. In these workshops, men make and bake pottery. Sometimes, women accept the responsibility of painting on these dishes, which are done in two ways: one with plastic and oily colors and the other with mineral pigments that will be fixed after baking in the furnace. Recently they have used a new technique to decorate it. It is called Mina or Enamel.
We can provide you the Best product at the Best price and Best packaging!
Just tell us what product, how much and where do you want to get it? Handicraft@thegreatpersia.com
You may also like these handicrafts tours…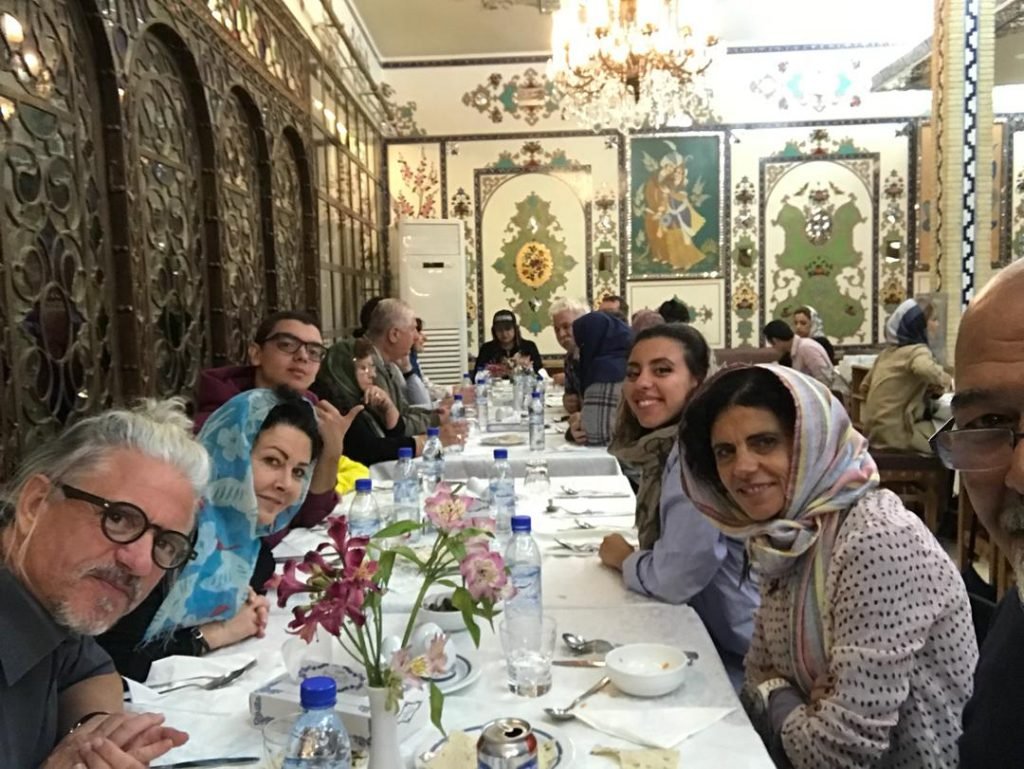 frewrewrdsfdfdsfdsfsdfsdfsdfdsf