Iran Tailor Made Tour
We Customize Your Travel to Suit Your Wishes and Time Schedule
We are very pleased to announce our Iran Tailor-Made Tours, a chance for you to design your own tours to Iran. As a travel agency with years of experience in Iran travel and Iran tourism, we are well aware that each group of passengers—depending on the number of its members, their age, their tastes, and their travel goals—has its own unique and diverse needs.
Iran Tailor-Made tours can be guided or self-guided with confidence that all the ground handling has been completed so all the worry of sourcing accommodation and transport will be taken away from you and in conjunction with your budget.
We also offer an exclusive Iran Tailor-Made Tours where one of our representatives will be on hand the whole time, you're away should you need our help or translation services.
Why should I choose tailor-made travel?
A tailor-made trip truly is a dream trip. You get to do everything that you want, your way. An expert takes care of all the organizing, saving you the stress. But you remain in full control of the planning process, from start to finish. You liaise with a travel expert, who is your main point of contact. This expert not only looks to secure the best options available, but also to save you money by seeking out preferential rates for activities and accommodation. With a personalized travel itinerary, you don't have to spend any of your vacation time planning where to go or what to do next. And you don't need to worry about missed connections, transfers or tourist scams. Your guide or driver will always be there to ensure that everything runs smoothly.
Who is tailor-made travel for?
Tailor-made trips are tailored to each traveler. They are perfect if you are
looking for authentic experiences and prefer to spend more time meeting locals on your trip. With a local expert's knowledge and your own private guide, you can gain a deeper insight into local culture. Based on your interests and preferences, the local expert can recommend places to go and people to meet that you might never have considered.
Tailor-made travel is ideal when traveling as a family, or as a group of travelers of different ages. Keeping everyone happy can be a challenge when planning a trip yourself, but a local expert can organize a range of activities to suit everyone. And on a tailor-made trip, there is full flexibility to travel at your own pace.
Tailor-made itinerary also offer opportunities to accommodate special interests, such as history, pilgrimages or tracing family heritage, with a plan to see places that are not necessarily on the tourist trail.
How does tailor-made travel work?
To start planning your private tour with us, you can create an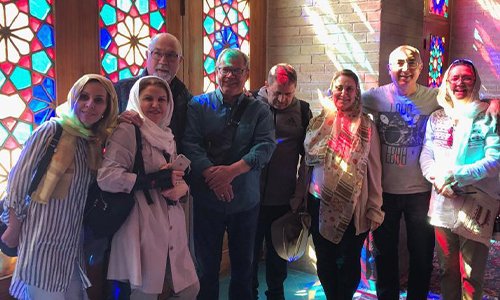 itinerary from scratch, or modify one of our suggested itineraries. Whether your trip is a few days' or a few weeks' long, local travel experts will craft a unique, personalized itinerary, fully tailored to your wishes. Want to stay in that quirky hotel, or visit a particular film location? They will will make it happen by Iran Tailor-Made tours.
When you are happy with every detail, you pay deposit , relax, and simply look forward to heading off on your trip.
Please complete the questionnaire below and give us a rough idea of what you are looking for.
The more information you can give us the better we can get back to you with suggestions.
For more information and queries that you may have, please contact us via Incoming@thegreatpersia.com we will check your request and reply in the soonest.